Home | Our Family | Where We Live | Garden | Pets | More Pets | Family History | Stanthorpe Cemetery | E-mail & Guestbook | Quart Pot Creek | National Parks | Girraween N.P. | Boonoo Boonoo N.P. | Sundown N. P. | Bald Rock N.P. | The S S "Fortitude" | Stanthorpe Museum | Thunderbolt |
---
Christian & Caroline Hartmann
Graves & Headstones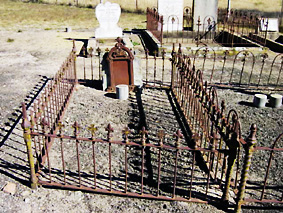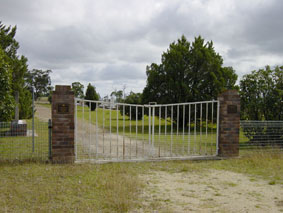 Christian Hartmann's
grave in the cemetery
at Dundee, NSW, Australia
No visible inscription.
On the right of this grave is another with wrought iron fence, here lies Bridget Hartmann, first wife of August and their daughter Helena,who died young.

Entrance gates to the
Dundee Cemetery (above)
---
Caroline Hartmann's headstone in the Hunter Street cemetery, Gunnedah, NSW., Australia

Possibly the headstone & fencing only , were removed. by family members, and relocated from the Old Church of England Portion of the cemetery to its present situation
(Family oral history)
---

I would be interested to hear from anyone who has any information or photographs on any of these families.
You can write to me at <jvbryant at halenet dot com dot au> .