Home | Our Family | Where We Live | Garden | Pets | More Pets | Family History | Stanthorpe Cemetery | E-mail & Guestbook | Quart Pot Creek | National Parks | Girraween N.P. | Boonoo Boonoo N.P. | Sundown N. P. | Bald Rock N.P. | The S S "Fortitude" | Stanthorpe Museum | Thunderbolt |

---
Ladiska Amelia (Hartmann) King
& her son Harvey Ignasus King
Graves & Headstones



Ladiska Amelia King and her son Harvey Ignatius King's grave & headstone in the Old Roman Catholic Portion of the Hunter Street cemetery, Gunnedah, NSW, Australia.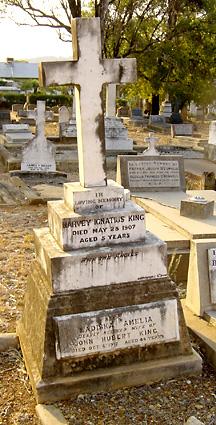 In
Loving Memory
of
Harvey Ignatius KING
died May 28 1907

also
Ladiska Amelia
Dearely Beloved wife of
John Hubert KING
died Oct 4th 1917 aged 44 years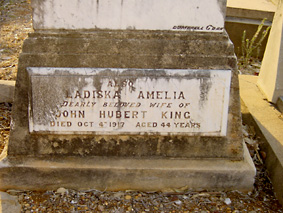 ---

I would be interested to hear from anyone who has any information or photographs on any of these families.
You can write to me at <jvbryant at halenet dot com dot au>.