Home | Our Family | Where We Live | Garden | Pets | More Pets | Family History | Stanthorpe Cemetery | E-mail & Guestbook | Quart Pot Creek | National Parks | Girraween N.P. | Boonoo Boonoo N.P. | Sundown N. P. | Bald Rock N.P. | The S S "Fortitude" | Stanthorpe Museum | Thunderbolt |

---
Wilhelmina HARTMANN
and Frederick HOLZ
and Charles MOELLER

---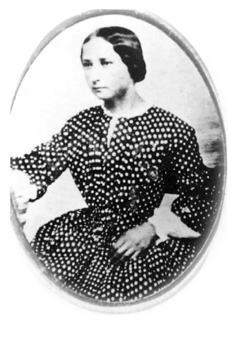 Wilhelmina HARTMANN
was Joyce Bryant's maternal Great Great Aunt


---

Wilhelmina & Fred HOLTZ had the following children:
1 Carlena "Lena" Lucy HOLTZ (1860 - 1954)
2 Lucy "Lou" Rebecca HOLTZ (1862 - 1937)

Wilhelmina & Charles MOELLER had the following children:
1a Martha "Matt" M MOELLER* (1865 - 1965)
2 Margarete "Maggie" Emma MOELLER (1867 - 1936)
3 Lydia R MOELLER (1870 - 1944)
4 Harmina L MOELLER (1870 - 1870)
5 Charles Emanuel MOELLER (1873 - 1893)
6 Elizabeth "Lizzie" Laureta MOELLER (1876 - 1977)

---

Wilhelmina was the 2nd child and 1st daughter born to Christian HARTMANN & Carlena "Caroline" DAMEIER . She was born October 3, 1806 , Hannover, Germany.
Wilhelmina was taught by her mother the gentle art of keeping house, and she learnt to knit and care for the younger children, her mother being of a rather delicate nature, she attended school and was taught to read and write.

At the age of 25 she accompanied the Sanders family to America. (Entry in the ship's log book states Johann Heinrich Sander, his wife Henriette, their 4 children, including one infant, and following their entry was one Minnie Hartmann 25 years old.) They arrived in New York, September 14, 1858 aboard the "Atalanta" which sailed from Bremen.

Her first position was in New York city, where she learnt quickly to understand the English language and the American cookery. Her next position was in Le Claire. It was here that she met a young man Fred, from Muscatine, Iowa. Wilhelmina married Fred HOLTZ on the 1st May 1859 at Muscatine, Iowa and was married by Mr Sanders whose family she had accompanied to America.
Christian Holtz, Fred's father lived with them.
Carlena "Lena" Lucy Holtz, their first daughter was born on the 28th May, 1860 and they were blessed with a second daughter Lucy "Lou" Rebecca Holtz who was born 17th June 1862.
It was during this time that the nation entered the Civil War and Fred volunteered and joined the army. He belonged to the 35th Infantry. Fred died in 1863 at Cairo, Illinois, from dysentry while still in service. What a tragic blow this would have been to Wilhelmina, with two small children to care for and only recently come to the country. His death is recorded on a monument erected by the Woman's relief Corp, dedicated on 4th July, 1875, and rededicated 4th July, 1925.
It was awhile after Fred's untimely death that Wilhelmina met and married another young German man, Charles MOELLER. Charles was born on the 18th September, 1837 at Neukloster, Mecklenberg, Germany. He was seventeen when his family, owing to the conditions in Germany at the time, emigrated to America. They arrived in New York in 1855. Charles first settled in Manitowoc, Wisconsin and afterwards he lived in Milwaukee, Winsonsin. He was employed on a fishing boat. He later moved again to Muscatine, Iowa where among other things, he became a member of the German Baptist Church near Platte Center, Nebraska, and later still the English Baptist Church in Walsenburg, Colorado where he kept his membership for life. It was some time after coming to Muscatine that he met and courted Wilhelmina Holtz. Wilhelmina and Charles married on the 18th September, 1864.
They had 6 children, 5 daughters and 1 son. Namely they were Martha,1865; Margaret,1867; Lydia,1870; Harmena,1870; Charles Emanuel,1873; and Elizabeth Lureta,1876.

The Moeller family became farmers and lived on rented farms in different parts of the country for many years.
Charles died 9th January, 1908 at Gardner, Huerfano County, Colorado, while Wilhelmina died not long afterwards on the 12th March 1908 at Gardner, Huerfano County, Colorado. They are buried side by side in the cemetery at Gardner.
(Story condensed from the writings of Elizabeth Griffith, daughter of Wilhelmina & Charles MOELLER, entitled "From Then Till Now")

---

I would be interested to hear from anyone who has any information or photgraphs on any of these families. You can write to me at <jvbryant at halenet dot com dot au>