Home | Our Family | Where We Live | Garden | Pets | More Pets | Family History | Stanthorpe Cemetery | E-mail & Guestbook | Quart Pot Creek | National Parks | Girraween N.P. | Boonoo Boonoo N.P. | Sundown N. P. | Bald Rock N.P. | The S S "Fortitude" | Stanthorpe Museum | Thunderbolt |

---
Hermann Christian HARTMANN

---

Obituary
Late Mr H Hartmann
Fifty-Nine years a Colonist
Dundee's "Grand Old man."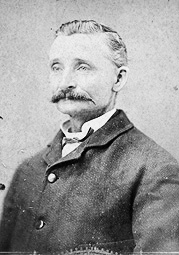 A life partnership of 60 years - Characterised by a singular degree of mutual devotion and happiness - a short separation - and then reunion!

Thus what Death put asunder four brief months ago Death has now joined together again, and Mr and Mrs Hermann Hartmann Sen. sleep side by side in the little cemetery at Dundee within a few miles of the spot where over half a century of their life was spent. Theirs was an ideally happy union. Begun across the water away back in 1862, it continued right on through all the changing scenes of life. And as their children grew around them; and then their children's children, and even to the third generation, each was but a human link to bind them closer together. Last November, spared to each other for 60 years, this grand old Darby and Joan celebrated their diamond wedding, when relatives came from near and far to join in the felicitations extended to the pioneers. Later in April, came another family reunion - then the head of the home celebrated the eighty-eighth anniversary of his birth. And next morning came separation, when that merciful providence which had spared the aged couple to each other foe so long removed the mother hence. That was four months ago, and the stricken husband, bereft of his life partner, never recovered from the shock of that parting. It was as if a part of h himself had been taken, and the wound had never healed. A few weeks ago he was overtaken by influenza and, though the ailment was not treated lightly, no untoward results were anticipated. On Thursday morning, however, he collapsed suddenly and passed peacefully and painlessly away.

In the foregoing recital of a blissful union between husband and wife, mellowed with gracious sweetness as time silvered the honored heads, and enriched with the unfailing devotion of sons and daughters and their offspring yet again, one catches the true spirit of the Hartmann home. Over fifty years they spent in their little centre and, while others find it necessary to trip abroad in search of happiness, and to surround themselves with every modern device to the same end - their happiness they found in he dimple joys of the home and the family circle. With outside .... (doings) they concerned themselves little. True, when deserving of ..... brought assistance it was not withheld, but to them the centre of life was the home. Little wonder, therefore, that the family turned to the old nest increasingly as the weight of years began to tell, and that when at long last both parents went to their eternal rest a sense of loss remained which is only compensated for by a fragrant memory of two simple lives well and truly lived.

Hermann Hartmann was born 88 years ago and, with his wife, came to Australia in 1864. After a short time in Melbourne he moved to Gunnedah in this state, where he was employed on a station for some years. In 1867 he came to Dundee and for a time his trade - that of a saddler - stood him in good stead, and her worked about from station to station. In this way Ranger's Valley, (then owned by Oswald Bloxsome), Deepwater (the Windeyers), Strathbogie (the Gordons), Glen Elgin (Kelly and Duncan) were visited, providing the where withal which made possible the selection in a few years of a 50 acre clock (the "Six Mile"). This he named "Othfresen"; and on it he built his home. As time passed on, by dint of hard work and careful management, the property was added to, and success crowned the efforts of the pioneering pair, for they were partners in their work as in all else. The competence thus gained enabled them to spend their declining years in peaceful retirement, free of the strenuous cares of earlier days, and to devote themselves yet more to the service of their family.
Mr Hartmann i s survived by a family of nine - Messrs Gustave, Hermann, Richard, August, William and Arnold, Mrs Frank Kneipp and Mrs T Watson (all of whom live on Dundee), and Mrs Walter Chappell, of Stanthorpe.
The late Mrs W H Sloman was also a daughter. In addition, there are 51 grandchildren and five great grandchildren.
The body was laid to rest at Dundee on Friday afternoon, in the presence of a very large gathering of men and women from the whole of the surrounding district, as well as from Glen Innes. The burial service was impressively read by Rev H K Gordon BA., while Mr H A Tutt conducted the interment. The pall-bearers with one exception, were sons and sons-in-law of the deceased gentleman - Messrs Gustave, Richard, Hermann and August Hartmann, Mr H Keihne and Mr Frank Kneipp. unfortunately, two sons were unable to attend owing to illness.
(Newspaper article in the Glen Innes Examiner)

---

I would be interested to hear from anyone who has any information or photographs on any of these families. You can write to me at <jvbryant at halenet dot com dot au>