Home | Our Family | Where We Live | Garden | Pets | More Pets | Family History | Stanthorpe Cemetery | E-mail & Guestbook | Quart Pot Creek | National Parks | Girraween N.P. | Boonoo Boonoo N.P. | Sundown N. P. | Bald Rock N.P. | The S S "Fortitude" | Stanthorpe Museum | Thunderbolt |

---
Hermann Christian HARTMANN
and Johanna Louisa Sophia KIEHNE

---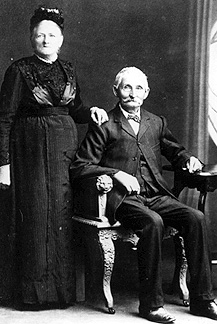 Diamond Wedding Anniversary
VENERABLE COUPLE
Mr and Mrs H Hartmann
Celebrate Diamond Wedding
MANY FRIENDS PAY TRIBUTE
Ripe in years and rich in experience, Mr and Mrs Herman Hartmann, sen., of "Othfresan", Dundee, celebrated the diamond anniversary of their wedding on Saturday last. The auspicious occasion was made one of general celebration on the part of the numbers descendants of the grand old couple, who were also the recipients of innumerable congratulations upon the attainment of the jubilee of an exemplary married life, Mr and Mrs Hartmann are two of the oldest residents of Central New England, and on both sides - particularly at Dundee, where members of their family were reared-they are held in the highest possible form of esteem, which fact is not surprising, when one considers the model lives they have lived, and the absolute integrity which has characterised their attitude towards a all with whom they came in contact during a long and honorable residence in the Dundee district. All honor to the grand old couple.
Saturday's celebrations were conducted with a great deal of oclat, and were very largely attended, several visitors, apart from members of the family circle, being in attendance to honor the central figures of the day. Glen Innes contributed well to the quota of visitors at the interesting function, amongst them being Mr F S Mackenzie.
Mr Herman Hartmann, sen., was born in 1834, and is now 88 years of age. He landed in Australia in 1864, and in 1876, settled at dundee. Mrs Hartmann, sen., was born in February, 1842, from which it will be noted that she has attained her 80th year. There are seven living children, 51 grandchildren, and five great-grandchildren. Some members of the family journeyed from Stanthorpe, Lithgow, and other parts to be present at the nuptial jubilee of their two well-loved ancestors. The family reunion was a unique one in every respect, and during the day Mr. Coop secured a photographic group of the aged couple and their big gathering of "their children and their children's children."
In honor of the memorable occasion a sumptuous repast was served in "Othfresan" woolshed, and was tastefully decorated per medium of bunting and greenery, whilst the tables were also most pleasingly embellished, the whole reflecting a highly attractive sight. The dinner, which was admirably served at about midday was presided over by Dr Arthur J Mackenzie who read congratulatory messages to Mr and Mrs Hartmann, sen., from Mr and Mrs John Priest (Sydney), Mr and Mrs Fred Broadbent (Sans Souci), Mr and Mrs George Larkin (Bald Nob), Mr C Bloxome (Lilburn), Mrs Tait (Glen Innes), these also forwarded apologies for non attendance.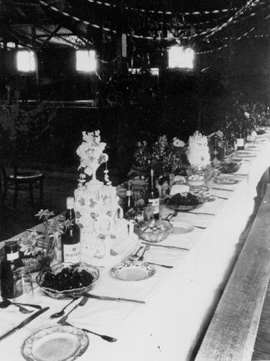 In proposing the health of the guests of the day, Dr Mackenzie remarked that he had known both for some years and with many others, held them in high regard.
He had attended them as a physician, and had seen ample proof that their sons and daughters had full reason to be proud of them. He sincerely congratulated the family upon the possession of such great parents, who were well and favourably known throughout Central new England, particularly the Dundee and Glen Innes districts. Mr and Mrs Hartmann possessed "lovely dispositions, being kind, true, lovable and generous," and he trusted that they would each live to enjoy many more happy years.
Mr William Hartmann made fitting response on behalf of his parents and family. The latter deeply appreciated the high honour paid their parents that day. He specially thanked Dr Arthur Mackenzie for the many kindly and sympathetic references to his (the speaker's) father and mother, who that day were supremely happy in the presence of such a large assemblage of relatives and genuine friends. He would also like to further express gratitude to Dr Arthur Mackenzie for the skillful and kindly attention given to his parents during a recent illness; in fact, it was really due to Dr Mackenzie's efforts that the guests were in a condition of health to fittingly celebrate their diamond wedding jubilee. His father and mother were immensely proud and pleased to welcome such a large gathering of friends, and genuinely reciprocated the manifold good wishes showered upon them from all sides. He expressed, on behalf of the family, genuine thanks for the many manifestations of fine will extended towards his parents that day. Such kindly thoughts and actions would ever live in memory.

A dance was held in "Othfresen", woolshed at night. laughter and happiness were the outstanding features of the function, the arrangements for which were controlled in most capable manner by the ladies and gentlemen responsible. And through all the gaiety there ran the note of congratulation to the old couple in whose honor the celebrations were being conducted. Splendid music was supplied by Mr Gustav Hartmann (Dundee), Mr Walter Chappell (Stanthorpe), Miss Greta Chappell (Stanthorpe), whose efforts were accorded a full measure of appreciation by the happy dancers. Dancing was indulged in until about midnight. Refreshments were served on generous scale, there being in evidence two beautiful and gigantic "Jubilee wedding" cakes, made by the skillful hands of Mr C A Hunt (Glen Innes) and Miss Bertha Kiehne, of Dundee.
The "Guardian" adds its mode of congratulations to Mr and Mrs H Hartmann, sen., and trusts that many many more years of the fullest happiness and prosperity await them in their peaceful home at Dundee on the Severn. Though in somewhat enfeebled health - due to the infirmities of advanced years - Mr and Mrs Hartmann , sen., present a wonderfully cheerful demeanour, and in the evening of their well-spent careers, look to the future in serene confidence, hopeful of achieving the reward that crows all men and women who have performed their duty cleanly and well through life.
The following sons and daughters of Mr and Mrs Hartmann sen., are living: Messrs Hermann jun., ("Beulah" Dundee) , Richard (Dundee), August (Dundee), William (Dundee), Arnold (Dundee), Mesdames Frank Kneipp (Dundee), Thomas Watson (Dundee), and Walter Chappell (Stanthorpe).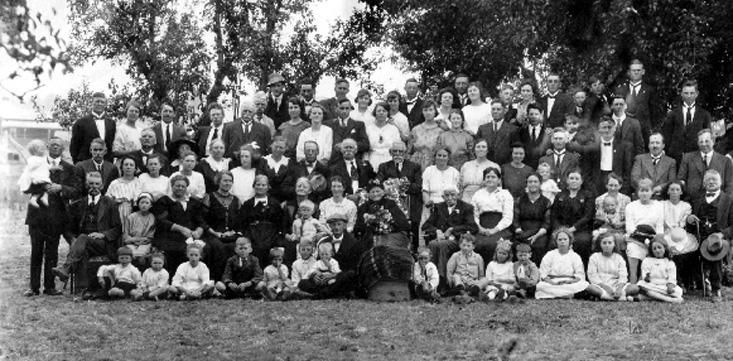 Hermann and Louisa Hartmann's Diamond Wedding Anniversary 60 years of marriage (1862-1922).

Front row l to r: Garvan Biddle, Marjorie Biddle, Nita Darcy, Eric Chappell, Nita Hartmann, Wally Hartmann, Carmel Hartmann , Boy Hartmann, Frank Kneipp, Molly Hartmann, Reg Hartmann, Rene Darcy, Marguerite Hartmann & Dulcie Hartmann.
Second row l to r: Tom Watson, Nellie Kniepp, Emma Hartmann, Mrs William Sloman, Meta Watson. Olga Kneipp, Gilbert Kneipp, Annie Hartmann, Willie Hartmann (sitting in front), Louisa Hartmann, Hermann Hartmann, Hedwig Chappell, Vicky Hartmann, Mary Darcy, Bella Hartmann, Elsie Hartmann, Jack Hartmann, Greta Chappell, Muriel Hartmann, & Gustav Hartmann.
Third row l to r: Mona Hartmann, August Hartmann, Walter Chappell, Doris Hartmann, Herman Hartmann jnr , Lucy Kniepp, Ilma Hartmann, Louise Kiehne, Anna Kiehne, Joyce Hartmann, Bertha Keihne, Bill Darcy, Frank Kneipp snr, William Sloman, Hilda Darcy, Mena Biddle, Jessie Watson, Gilbert Sloman, Mick Watson, Arnold Hartmann, Frank MacKenzie & Dr Arthur MacKenzie.
Fourth row l to r: Arthur Smith, Ruby Miller, Jack Miller, Rupert Watson, henry Kiehne, Richard Hartmann, Kitty Hartmann, Millie Kneipp, Ray Chappell, Hilda Kneipp, Phyllis Hartmann, Daisy Kneipp, Wilfred Sloman, Vincent Sloman.
Back row l to r: Reg Watson, Jim Hartmann,, Stan Hartmann, Beryl Hartmann, Irene Chappell, Rollyn Hartmann, Ada Kneipp, Royal Hartmann, Nita Watson, Errol Hartmann, Eileen Hartmann, Arnie Hartmann, Harvey Hartmann, Les Watson, Len Kneipp, Reg Martin & Eric Hartmann.

(Newspaper article from the Glen Innes Examiner)


---

Back to the top
Return to the Hartmann Family Index