Home | Our Family | Where We Live | Garden | Pets | More Pets | Family History | Stanthorpe Cemetery | E-mail & Guestbook | Quart Pot Creek | National Parks | Girraween N.P. | Boonoo Boonoo N.P. | Sundown N. P. | Bald Rock N.P. | The S S "Fortitude" | Stanthorpe Museum | Thunderbolt |

---
Hartmann Photographs


Christ Church, Church of England, Dundee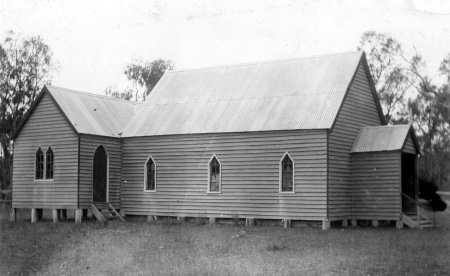 Extracts from the publication "Dundee, The Land and it's People"
written by Eileen Hartmann & edited by P E Hartmann
Religion was practiced in private homes during the early days of settlement of Dundee. Each Sunday after supper the parents read passages from the Bible to their children. This practice eventually grew into a community activity each Sunday evening when people gathered at each otheres homes for Bible reading. Different homes were selected each Sunday so that every family had an opportunity to participate in the Bible readings. The landholders and their families worked 6 days a week and Sunday was a day of rest and religious activity.........
The Rev. Innes initiated moves within the Dundee community to build a church...........
The first church built at Dundee was a simple one-roomed wooden rectangular building with a shingle roof. The church was completed in 1879 and was known as the Union Church. The first service was held in the church on 16th January, 1880. The weddings of Mr and Mrs Thomas Watson of "Killarney" and Mr & Mrs Frank Kneipp of "Wattle Dale" were among the first wedding ceremonies to be held in the Union Church.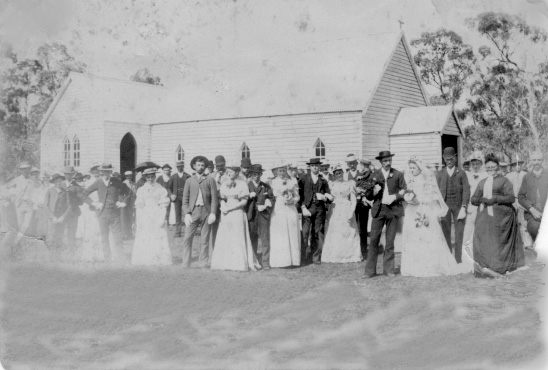 One of the first weddings in Christ Church Dundee was that of Thomas Watson & Meta Lena Hartmann held on the 30th April, 1894.
Some of the people in this group can be identified.
Click on the photo where the people are standing until you find a link, which will then take you to another photo and identify the person.

The German settlers at Dundee were all of the Lutheran faith. The majority of these settlers concluded that the teachings of the Anglican faith related most closely to the Lutheran church and converted to the Church of England.......
Gustav Hartmann was confirmed into the Church of England on 1st November, 1878 at the age of 19.......By the 1890's the biggest proportion of the population at Dundee belonged to the Church of England .......
The church building was extended in 1901 to provide space for an Alter and Vestry......An example of the attendance at services were 97 in May 1902..
The old church was demolished by voluntary labour in 1951 and the funds raised, by the sale of the materials to local residents, were added to the building fund.The new church built by Freak and Son of Glen Innes, was dedicated and consecrated free of debt on 23rd July, 1952 by the Bishop of Armidale the Right Rev J S Moyes.......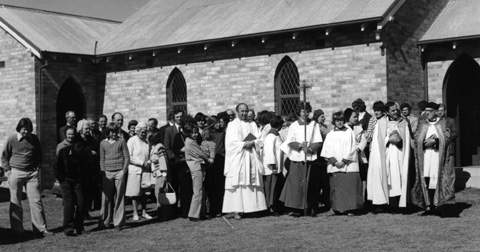 Dedication & Consecration of Christ Church Dundee 1952
Left to Right:
Lad?, Eric Hartmann, Nellie Ward, Daphne Kiehne, Colin Ward, Jack Alt, lad?, Don Alt, lady?, Eileen Alt, (in lighter coloured clothing) David Wier, walking in front is Doris Rice
A lot I do not recognise in the centre of the photo.
Right to Left:
Kevin Alt, Bishop,back of Paul Hartmann's head, Dick Hartmann, minister.


I would be interested to hear from anyone who has any information or photographs on any of these families.
You can write to me at <jvbryant at halenet dot com dot au>.

Back to the top
Return to the Hartmann Family Index