Home | Our Family | Where We Live | Garden | Pets | More Pets | Family History | Stanthorpe Cemetery | E-mail & Guestbook | Quart Pot Creek | National Parks | Girraween N.P. | Boonoo Boonoo N.P. | Sundown N. P. | Bald Rock N.P. | The S S "Fortitude" | Stanthorpe Museum | Thunderbolt |
---
Hartmann Photographs

---
Christ Church Dundee
Sunday School Group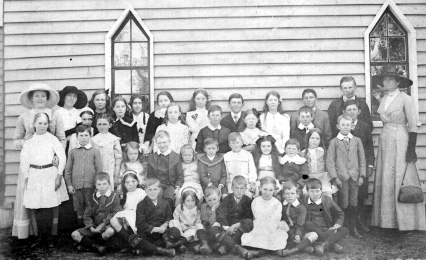 Back Row Standing: Mena Hartmann, Maud Jackson, Eileen Hartmann, Doris Jackson, Dorothy Ingall, May Jackson, Phyllis Hartmann, Jack Chappell, Vera Broadbent , Clem Sloman, Stan Hartmann, Mrs Jackson (Sunday School Teacher)
2nd Row: Louie Chappell, Madge Burridge, Violet Chappell, Miss Ferris, Victor Broadbent,, Ivy Broadbent, Jim Hartmann, Bill Chappell.
3rd Row: Bert Chappell, Dora Sloman, Bert Biddle, Rita Sloman, Lewis Sloman, Colin Ward, Myra Chappell, Bob Chappell, Doris Hartmann & Sid Broadbent.
4th Row sitting: Jesse Broadbent, Nita Jackson, Frank Burridge, Joyce Hartmann, Ralph Burridge, Allan Burridge, Nellie Burridge, Bill Shannon & Keith Biddle.
Notes by Mena (Hartmann) Biddle, written on the back of a photo, presumed to be taken 5th October 1913.
"Mena" was Hermine Irene Hartmann, daughter of Hermann jnr & Emma Victoria Hartmann of "Beulah", Dundee.

Christ Church Dundee
......Dundee by Bishop Cooper on January 29 1910-11 girls & 3 boys
. ....... ng the organ in the church on 21st April 1912.
played for the confirmation on 16th of February 1913- 6 girls 3 boys,
played for Rees and Miss Hogon's wedding on the 4th of June 1913.
Started Sunday School In Dundee Church on February 2nd 1913.
Mrs Jackson Head Mistress, Mena Hartmann 2nd, Maud Jackson 3rd-
My class when all in attendance (16). Had the Sunday School
photos taken on 5th of October 1913. Sunday School Picnic and Harvest
Festival on the 31st Jan 1914. 41 books awarded to the pupils from the SS.and
Mrs Jackson 3, M Hartmann 3 & M Jackson 2, specials- Mrs Burridge 3. Prizes awarded for attendance (46 days full)
(1) Eileen Hartmann 45, Vera Broadbent 45, Jack Chappell 44. (2) Ivy Broadbent 43, Ivy Sloman 39 without a break sick , Bertie Biddle 42. (3) Doris Hartmann 44, Keith Biddle 42. Mrs Burridge's 3 awarded to Doris Ingall, Madge Burridge and Myra Chappell. Also my presentation from the church for organist. They presented me with £3.13.0 brooch, very pretty, disappointed I couldn't much speak.
On 28th of Feb 1914. Confirmation at the Dundee church, 5 boys being confirmed
by Bishop Cooper, Canon Kemmis being in attendance. I played the organ , had 4 very pretty hymns.
Jan 21st 1915; a wet day it was too. And after lunch we had the church
meeting and I got great praise for the organ and also the Sunday School.
We also had a little picnic for the breaking of the Sunday School .... before
Christmas. And on the 26th of Jan 1915, I played for Maud Jackson's & Emil Rees' wedding which was a marked success. It was a very grave wedding, and I was nervous because Mrs Stephenson was there; played for Mr Gray and Miss Cameron Presbyterian Church Glen Innes 26 May 1916; played for Mr Fred Sloman's burial 4th June 1916.
Left the Sunday School on July 17 1916 after 3 years and a half work, the children would not attend enough to keep ...on sorry.
Was married in this church on Dec 20th 1916, and played one Sunday after I was married. Christmas Sunday 1916 and I was sorry to leave. Christ Church Dundee presented me with a silver tea set on silver tray on Aug. 12, 1916. This being my wedding gift.
(This church was demolished in 1952)
Quite a lot was unreadable but the general idea is captured. It is copied as it was written. See photo below.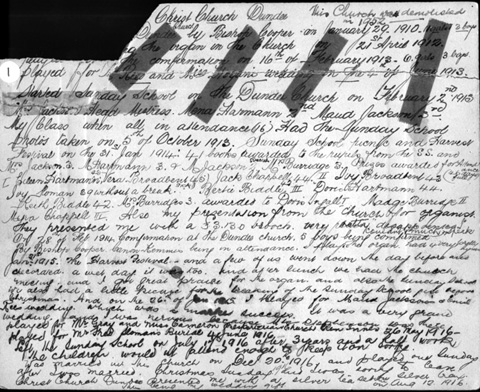 ---


Christ Church Dundee
(possibly early 1900's)

---

I would be interested to hear from anyone who has any information or photographs on any of these families.
You can write to me at <jvbryant at halenet dot com dot au>

Back to the top
Return to the Hartmann Family Index