Home | Our Family | Where We Live | Garden | Pets | More Pets | Family History | Stanthorpe Cemetery | E-mail & Guestbook | Quart Pot Creek | National Parks | Girraween N.P. | Boonoo Boonoo N.P. | Sundown N. P. | Bald Rock N.P. | The S S "Fortitude" | Stanthorpe Museum | Thunderbolt |
---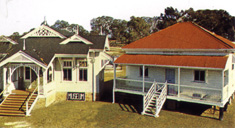 Stanthorpe Museum
The JEAN HARSLETT Research Centre
officially opened
---
District's Heritage finds a safe home

(Source: Stanthorpe Border Post , Thursday, March 11, 2004 - PAGE 3, Robyn Murray, printed with permission)
Irreplaceable historical documents and photographs gathered by historian Jean Harslett in over 50 years of research now have a permanent home at the Stanthorpe & District Historical Museum.
The Museum's Jean Harslett Research Centre will house Mrs Harslett's collection of over 16,000 photographs as well as research into local families histories and the development of the region.
The photographic collection is regarded as one of the best historical collections in Queensland.

Historical research by other researchers will also be housed in the centre.
The Jean Harslett Research Centre, an extension of the former Stanthorpe Shire Council Chambers at the Stanthorpe Museum, was built by Historical Society members under the direction of builder Hal Lyons, with financial and practical support from the community and from Stanthorpe Shire Council.
The Federal Govenrment recognised the importance of the collection by giving $8,000 through the Community Grants programme, which is awarded annually to preserve nationally significant documentary heritage material.
Mervyn Royle, who co-authored "They Came To A Plateau" with Mrs Harslett in 1972, recalled that from the early days of the Stanthorpe Historical Society, Mrs Harslett had considered it vital that the museum should include a collection of documents and records so that proper research could be undertaken.
The Jean Harslett Research Centre will be a secure room with restricted access.
Below left: Mayor Adrian Finlay, Bob and Jean Harslett with Stanthorpe & District Historical Society President Owen Nielsen, following the opening of the Jean Harslett Research Centre on Sunday, 7th March, 2004
Below right: Jean Harslett with Lorna Church of Warwick

| | |
| --- | --- |
| | |
CONGRATULATIONS JEAN
ON A LIFETIME OF DEDICATION TO THE HISTORY OF STANTHORPE
---