Home | Our Family | Where We Live | Garden | Pets | More Pets | Family History | Stanthorpe Cemetery | E-mail & Guestbook | Quart Pot Creek | National Parks | Girraween N.P. | Boonoo Boonoo N.P. | Sundown N. P. | Bald Rock N.P. | The S S "Fortitude" | Stanthorpe Museum | Thunderbolt |

---

Arabella PALFREY
This page is still under construction

---
Arabella Palfrey
is no relation to Joyce Bryant



---


I am not related in any way, but I am interested in Arabella "Bella" Palfrey. Her photo is included in some of the old photograph albums of the Hartmann family, and taken in group situations with the daughters of Hermann jnr. It is to be presumed that she was a good friend of the Hartmann sisters.

(2004) I have now uncovered the mystery of Belle. Her father was a mining engineer at Emmaville and she was a school teacher at the nine mile, Dundee, thus her involvement with the Dundee families.


Belle was married 1890 in Emmaville to George ROSS. She died in Burwood, NSW, 1932.


George & "Belle" had the following children-

Frank G ROSS 1891

George L ROSS born Armidale in 1893 and married Mary I JACKMAN

Eileen M Ross born Emmaville in 1894 and married Frank BATEMAN

Alfred ROSS born 1895 Armidale, died 1895 Armidale

Kenneth D ROSS born 1896 Armidale, and married Mary I ROCHE 1923 Grafton

Alan C ROSS born 1898 Armidale

Bruce ROSS born Orange and married Violet D EDDINGS 1927 Waverley

Keith McKenzie ROSS born 1901 Orange, married Thelma Louisa FIELD 1936 Forbes

William ROSS born 1903 died 1903 Orange

Iris ROSS born 1904 Orange died 1904

Photo on right presumed to be Belle Palfrey.
Can anyone help with positively identifying this lady??
---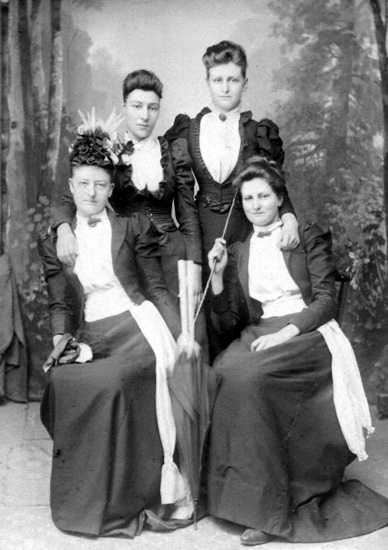 It looks very much like Belle at the back on the left. Here she is seen with the three Hartmann sisters.
Standing back L to R: Belle Palfrey, Meta Lena (Hartmann) Watson
Front sitting L to R: Olga (Hartmann) Kneipp , Hedwig (Hartmann) Chappell,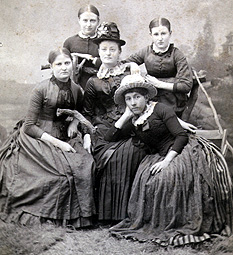 Belle Palfrey is sitting front right.
L to R: Meta, Hedwig, Olga & Disky Hartmann & Belle Palfrey
(Photo courtesy of Glen Innes History House)
---

I would be interested to hear from anyone who has any information or photographs on any of these families.
You can write to me at <jvbryant at halenet dot com dot au> .

Back to the top
Return to the Hartmann Family Index