Home | Our Family | Where We Live | Garden | Pets | More Pets | Family History | Stanthorpe Cemetery | E-mail & Guestbook | Quart Pot Creek | National Parks | Girraween N.P. | Boonoo Boonoo N.P. | Sundown N. P. | Bald Rock N.P. | The S S "Fortitude" | Stanthorpe Museum | Thunderbolt |

---
Conrad WESTERWELLER

---
Conrad had the following children:


1.1a Conrad Westerweller* (1806 - 1882)
& Anna Catherien Mandel Maria Schull


1.1a.1 Mary Westerweller
1.1a.2 Eva Westerweller
1.1a.3 Elizabeth Westerweller



---


1.1b Conrad Westerweller* (1806 - 1882)
& Catherine Mantel (1808 - 1885)
m. about 1838, Germany


1.1b.1 Jacob Westerweller (1841 - 1914)
& Caroline Henrietta Hartmann (1841 - 1911)
m. 1865, Gunnedah NSW AUS
1.1b.2 Adam Westerweller (1845 - 1909)
& Margaret Margrette C Pluss (1855 - 1904)
m. 1870




---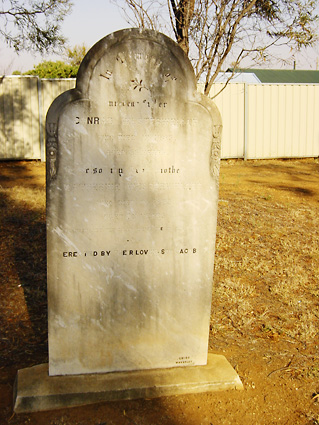 Conrad Westerweller first married Marie Schull /Schut and had three daughters, namely Mary, Eva & Elizabeth.
He later remarried Catherine Mantel born Buttendorf, Germany, who was the daughter of Jacob, a farmer. From this marriage there were two sons, Jacob & Adam. At the time of Catherine's death, Jacob was 45 years old and his brother Adam 40. On her death certificate it states that she had also had two sons deceased which indicates that she was probably married previously and that these were two sons from a previous marriage.
Conrad Westerweller was born in Germany, and by occupation was a farmer. No records have been found to indicate who his parents were.
Conrad migrated to Australia about 1848, his first home being where Anthony Horden's Store in Sydney was (now Grace Bros). It is recorded that Jacob & Adam came first to Australia and after settling themselves they sent for their parents. (Oral History)
He & his wife Catherine later settled in Gunnedah where they died and are buried alongside each other in the Old Church of England Section of the Hunter Street, cemetery, Gunnedah.

---

I would be interested to hear from anyone who has any information or photographs on any of these families. You can write to me at my <jvbryant at halenet dot com dot au> .

Conrad & Catherine's headstone in the Hunter Street cemetery at Gunnedah, NSW, AUS.

I have few details of their family, but would like to hear from anyone who is reseaching
this family and has information to share.