Home | Our Family | Where We Live | Garden | Pets | More Pets | Family History | Stanthorpe Cemetery | E-mail & Guestbook | Quart Pot Creek | National Parks | Girraween N.P. | Boonoo Boonoo N.P. | Sundown N. P. | Bald Rock N.P. | The S S "Fortitude" | Stanthorpe Museum | Thunderbolt |

---
Carlena "Caroline" Henrietta HARTMANN
& Jacob WESTERWELLER

---
Caroline Henrietta HARTMANN
is Joyce Bryant's maternal Great Great Aunt



---


Jacob & Caroline had the following children:


1. Hermine Catherina C Westerweller (1867 - 1950)
2. Alfred Adam George Westerweller (1869 - 1943)
3. Emil Wallace Westerweller (1870 - 1957)
4. Lena Meta Westerweller (1874 - )
5. Meta Matilda Westerweller (1877 - 1878)
6.Theodosia Meta Westerweller (1880 - 1970)
7. Harold Donald Kenneth Westerweller (1883 - 1935)
8. Catherine Westerweller ( - 1885)




---
Carlena "Caroline" Henrietta Hartmann was born 2nd October 1840, in Hamburg, Germany. She was the fifth child of Christian & Caroline Hartmann.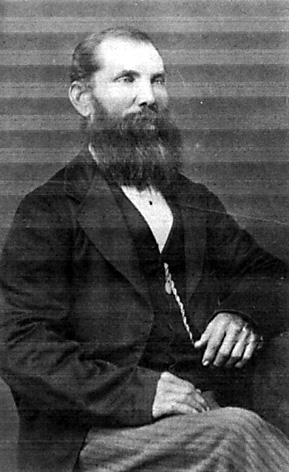 Caroline migrated with her parents, brother August and nephew Gustav to Australia in 1862-63. They came out on the Barque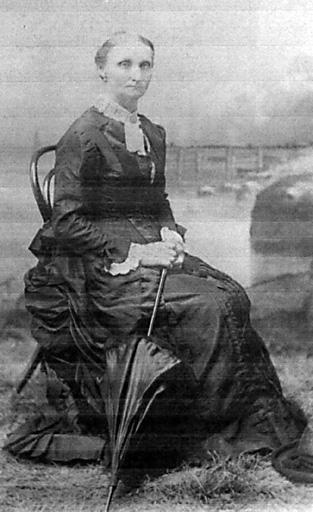 "Sophie" from Hamburg, arriving in NSW on 10th March 1863, and eventually settled in Gunnedah. Caroline (photo above & right) met and married and enterprising young man, Jacob Westerweller.
Jacob (photo left) was born in 1841 and migrated with his family in 1858 to Australia. His parents were Conrad and Catherine Westerweller. Jacob had one younger brother Adam and three step sisters by his father's previous marriage. The family arrived in Gunnedah in 1856 after a three week adventurous bullock wagon trip from Singleton, the wagon having been held up by bushrangers enroute.
He took up land along the western bank of the Namoi River approximately from the six mile to the ten mile reserve on the now Boggabri road. Jacob set up a sawmill on this holding, and it was from here he donated all the timber for the Church of England in Gunnedah, which is the present day Anglican Church. Later he settled on the property "Red Knobs" Ghoolandaadi, Gunnedah, and was the first man to purchase land in Conadilly Street, Gunnedah.
Look here for more Photos of the Family - takes a little while to load
---
Westerweller family is the main street's oldest business name (newspaper article 1976)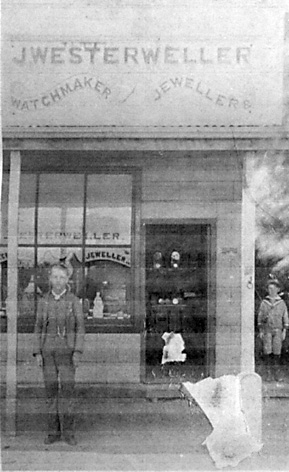 Gunnedah's oldest Conadilly Street business name is undoubtedly that of Westerweller and today it is being carried on by Mr Rus Westerweller in the Town Hall Furniture, now operated by Rus in partnership with his daughter, Mrs Nona Breen.
The Westerweller business dynasty started when Jacob Westerweller arrived from Germany in the 1850s and was originally a property owner and saw miller at Gulligal and then the Red Bob's (Knob) property which was later part of Ghoolendaadi Station
After settling in the Gunnedah district, Mr Jacob Westerweller brought his parents, Mr and Mrs Conrad Westerweller to Australia and there are now seven generations of the Westerweller family in Gunnedah.
However, Jacob Westerweller, who established a jewellery business in Gunnedah when his family showed a disinclination to follow grazing pursuits in the days when there were no fences and stock had to be shepherded, is regarded as "the father of Gunnedah's main street". The late Jacob Westerweller was the first man to establish a business in Conadilly Street after the disastrous floods of 1864 when Gunnedah's business centre was concentrated on Maitland Street, the street nearest the river. Other businessmen were reluctant to move from that area because of what they regarded as high prices paid for their original sites despite recurring serious floods in the street.
(Photo on the left) One of the earliest shops built in Conadilly Street, the boy (14) is Emil Walter Westerweller and the other lad is his brother Harold.
He purchased about half of the northern frontage of Condailly Street between Chandos and Marquis Streets and built several shops, with Jacob Westerweller having his shop where the Homecraft Store is now sited.
Later his son Emil, (photo right) who was Mayor of Gunnedah for 17 terms and an alderman for some 35 years, carried on the business his father established and another son, Harold and his sister Mena (Mrs Alex Weakley) carried on a hardware and drapery store in the same area of family-owned shops.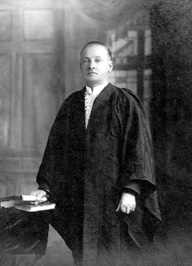 This original wooden shopping complex was destroyed by one of Gunnedah's worst fires in 1927, but was rebuilt in brick by the Westerweller family.
Mr Emil Westerweller, despite his extensive community commitments carried on the jewellery business and also an optometry practice on the original site until his death and the business was still in the hands of a third generation with Mr Darryl Westerweller, who died recently, in control, when Mr Russ Westerweller launched the Town hall furniture Store in partnership with Mr Ron Langford in 1955.
This ensured the continuity of the Westerweller family name in business for well over 100 years in Gunnedah's present main street.
As previously mentioned, Mr Westerweller's daughter now holds the interest previously owned by Mr Langford in the business, making a fourth generation of the original business pioneer continuing in business here.
The late Jacob Westerweller married a member of the Hartmann family from Glen Innes. They had six children. Alfred, Emil, Mena (Mrs Alex Weakley), Lena (Mrs J G Ogilvie), Theo (Mrs Walter Westerweller), and Harold (Sonny).
Russell is the son of Mr & Mrs Alf Westerweller (nee Lockyer), their ten children being Vic (deceased), who was manager of McDonagh Pty Ltd, Willis (Parramatta), Rita (Mrs C Taber), Linda (Mrs A Taber), Mernie (deceased), Alf (Gosford), Russell, Grace (Mrs Edmonds), Keith (Port Macquarie) and Jean (Mrs Bennett, Woolstonecraft).
Apart from being the principal of one of the largest privately owned furniture stores in the North and North West, he is widely known in national coursing circles in Australia, having been chairman of the G.B.O.T.A. Harold Park racing organisation for a long period of years and is currently Commonwealth Greyhound Association President.
He has also raced many champion greyhounds over a 40 years association with the sport, his most recent successful performer being Little Gundy.
The late Emil Westerweller's eldest son , Wallace and his family and grandchildren are another branch of the Jacob Westerweller family who have completed 120 years residence here.
(From the Namoi Valley Independent, "The First Hundred Years", Centenary Issue 21/12/1976
---

I would be interested to hear from anyone who has any information or photgraphs on any of these families. You can write to me at <jvbryant at halenet dot com dot au>