Home | Our Family | Where We Live | Garden | Pets | More Pets | Family History | Stanthorpe Cemetery | E-mail & Guestbook | Quart Pot Creek | National Parks | Girraween N.P. | Boonoo Boonoo N.P. | Sundown N. P. | Bald Rock N.P. | The S S "Fortitude" | Stanthorpe Museum | Thunderbolt |
---

This is Where We Live

Stanthorpe, South-East Queensland, Australia on the Granite Belt
Population 10 200 (1997)
Stanthorpe is the main town in the Granite Belt, 225 km south-west of Brisbane, in the mountain ranges along the border between Queensland and New South Wales. Stanthorpe came into being after the discovery of tin at Quartpot creek in 1872. Silver and lead were discovered in 1880, but the minerals boom did not last. The area has produced excellent wool for more than a century, but is best known for large-scale growing of apples, pears, plums, peaches and grapes. Stanthorpe is 915m above sea level and is often the coolest part of the state, showing off in autumn with spectacular colour, not seen as vividly anywhere else in Queensland. Spring is particularly beautiful with fruit trees and wattles in bloom. There are 90 varieties of wild orchids found in the area. The Stanthorpe Apple and Grape Harvest Festival takes place each even year at the beginning of March.
In the area: Storm King Dam, the town water supply, is popular for canoeing and water-skiing as well as camping. Mt Marley has excellent views of the town and district. There are many wineries in the area including Mt Magnus Winery at Thulimbah, Angelo's Cellars at Ballandean Estate. Other wineries include Bungawarra, Stone ridge, Rumbalara, Sundown Valley, Winewood and Robinson's family Winery. Sunworld Park at Eukey outside Stanthorpe has displays of craft, gems and wildflowers, and sun- and wind-powered instruments. Amongst some of the wonderful natural attractions is Undercliffe, Boonoo Boonoo and Jolly's waterfalls, Girraween National Park, which is very accesable, Bald Rock National Park just across the border in New South Wales and Sundown National Park, a wilderness area with a camping ground on the Severn River in the south-west of the park, with spectacular granite outcrops and wildflowers, and is popular for walking, rock-climbing and camping. A visit to the Stanthorpe Museum is a must, and very rewarding for those people coming to the town. Reflect on the inventiveness of our early pioneers that had extremely limited resourses.

Where we actually spend most of our time -
Our home and garden. The home is over 70 years old, and has quite a history. It once operated as a QCWA (Queensland Country Women's Association) hostel accomodation for young country people wishing to further their education in Stanthorpe. We moved into the house in 1969 and for a period of about seven years took in borders.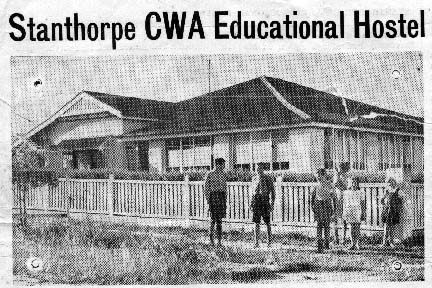 The Stanthorpe CWA Hostel which opened in 1954 (left) and a more recent photo of our house on the (right).