Home | Our Family | Where We Live | Garden | Pets | More Pets | Family History | Stanthorpe Cemetery | E-mail & Guestbook | Quart Pot Creek | National Parks | Girraween N.P. | Boonoo Boonoo N.P. | Sundown N. P. | Bald Rock N.P. | The S S "Fortitude" | Stanthorpe Museum | Thunderbolt |
---

More of Our Beautiful Pets
---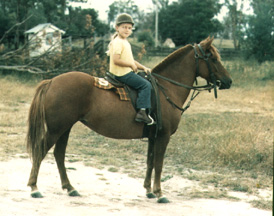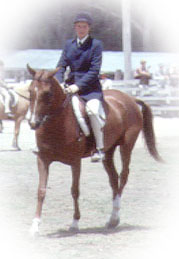 left: Wendy on "Cameo " at the Stanthorpe show.
Cameo died in 2000. She was the last horse that
Wendy rode in competition and was a mare
with a truly lovely nature.

right: Wendy astride "Twiggy" at 3 years of age.
She won the trophy at the Allora Pony Club Gymkhana. "Twiggy" was the first pony Wendy rode.
below : "Blue" Neville's trusty blue dog, slightly silly at times, none-the-less loveable, he liked a drop of ale. He learnt this trick on a trip to Birdsville when water was in short supply, he was given beer instead. What a waste?
Pets

1.Wendy with Sam


Just an adorable dog. We had him for about fourteen years and he was lost many times on our travels, but somehow we managed to find him.

2.Wendy & the kangaroos

3. Wendy riding "Cameo"
At the Tenterfield Show

4. Wendy on "Misty

This was at a Texas Pony Club Gymkhana. "Misty" was a wonderful children's pony.

5. "Flirt & her foal "Sister"
"Flirt" was a campdrafting mare with a wonderful nature. Here she is with her foal at "Spring Vale" Dundee where she was to spend her last days.

6. Wendy with "Pooky" & "Sam";
Wendy, Pooky & Sam warming themselves in front of the heater in the kitchen. Must have been winter time.

7. Wendy's dalmation puppy "Lucky"

He was anything but lucky, as he got distemper and died very young despite having all the attention we could give him

8. Neville holding "Ducky"
This fellow was very fond of chasing people especially Joyce.

9. Wendy's new boxer puppy
She has a name now and it is ----
Dhama
what a cutie she is

10. Mrs Bunny with "Freeby " looking after her.

Mrs Bunny was quite an age when she passed on . She was very quite and we could let her loose around our garden and Freeby, given a whistle would bring her back into her cage. Sometimes she would bail up on Freeby and not budge. They were the best of mates


11. "Freeby" with puppy.

12. Mrs Bunny with her black kitten

13. "Noisy"
"Noisy" was found abonded at the bottom of a tree and we reared him from a very early age and now 4 months later he has been released back to the wild. Lovely little fellow. 1/3/3002

On the left is Dhama, Wendy & Dean's boxer pup, at twelve weeks.

She has completed her formal education now.